What is a bouncy castle?【Best Gift for Chirstmas】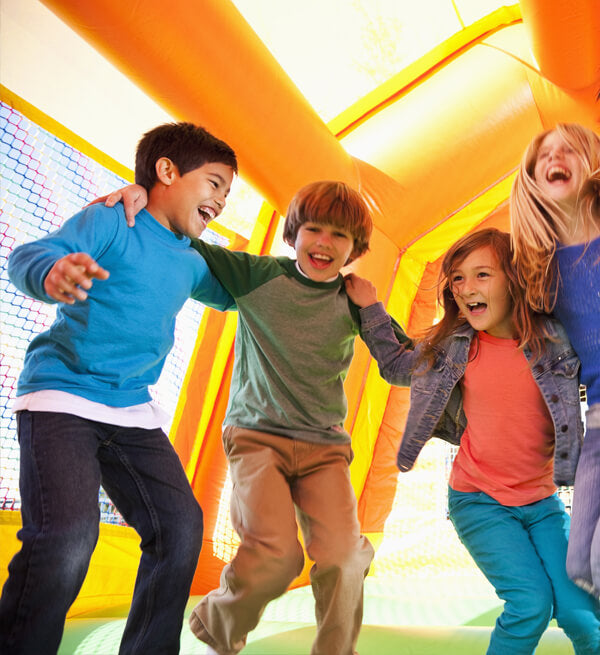 How does a bouncy castle work?
The bouncy castle consists of parts sewn or welded together. Completely, the parts result in a closed air envelope, like a balloon. The shape is only revealed when inflated. However, the bouncy castle consists of several air chambers that are cleverly placed next to each other. The chambers are open to the other chambers. The air can therefore migrate from chamber to chamber at any time. As a result, the air is always well distributed. So if you stand somewhere on the jumping surface, the rest of the jumping surface stays straight. There is no funnel. So several people can jump at the same time without disturbing each other.
Why is a bouncy castle better than a trampoline?
Level jumping surface
A trampoline has a bouncing surface made of a stretchy, rubber-like material that is suspended in a ring from springs on the outer frame. A bounce house has an almost flat jumping surface. So you don't automatically always slide to the middle. An advantage if several children are on it at the same time. Each child can hop in their own corner. Therefore, there is less risk of accidentally jumping onto a child lying below.
Soft ground
The jumping surface of the trampoline is stretched very hard. You have to be a skilled hopper to hop flawlessly. Many children therefore jump very cautiously or just run on the trampoline. The jumping surface of the bouncy castle is much softer and easier to jump on.
High side walls, no massive frame
Due to the high tension of the trampoline jumping surface, you can jump very high and also fall deep. Also fall on the hard margin. The bouncy castle is softer and safer all around.
Another advantage is that the bouncy castle can be assembled and dismantled very quickly. So it doesn't take up permanent space in the garden or in the children's room.
How much does a bouncy castle cost?
That cannot be answered in general. There are different price categories. A common bouncy castle is in a price range between 150 $ and 600$. Here you will find reasonable quality and sufficient size. Several children can do it at the same time. Of course, there are no upper price limits. But you already know that. The more money you spend, the better and bigger the models get. Those who pay attention to quality should buy more expensive. There are better and thicker materials here. And the better processing. After all, a 4-fold seam can withstand more than a 2-fold seam.
Why are there also bouncy castles for less than 100$?
These low-cost bouncy castles are constructed differently. They work similar to an air mattress. Once inflated, the valve is sealed airtight. Then no more air can escape. And depending on how much you inflate the bouncy castle, how hard or soft the jumping surface is. The inexpensive bouncy castles are also much smaller due to a different structure. And because of the cheaper material, they can withstand less weight. They are therefore more suitable for smaller children.
Bouncy castle? For whom actually?
In general, every age group can use the bouncy castle. Even the little ones will have fun. Whether crawling, or rolling, or somersault. However, the manufacturers set age restrictions. The under 3 year olds have a hard time finding such a suitable bouncy castle. Even adults will only find what they are looking for in the large models. Your own discretion plays a decisive role in the purchase and use. Can my child do that? Am I there so that nothing happens? Or do you regularly check whether the seams can withstand it when the bigger ones are on it? If you rent a bouncy castle, you can overload it. Suddenly 8 instead of 4 children are allowed here.
How do I find the right bouncy castle?
Very easily.
How many children should be able to jump at the same time?
How much space is available? Whether in the garden or in the children's room or living room.
How much can the bouncy castle cost?
Answer questions and then display them in the purchase advisor.
Alternatively, you can use the comparison view to find the right model. Small, medium and large bouncy castles are compared here.
Where do I put the bouncy castle?
In general, it should be a flat and soft surface. Otherwise there are no limits. A bouncy castle is easy to transport. That's why we sometimes take them to our aunt's. The only drawback is that you need a power connection for the blower. So if you want to set up the bouncy castle in the open field, you should have at least one car battery and a voltage converter (inverter).
Just hopping, nothing else?
What else? Slide? Climb? ball pool? If the classic version of the bouncy castle is too boring for you, you are guaranteed to find alternatives. There are also themes such as airplanes or jungles.