Single swing - more fun than ever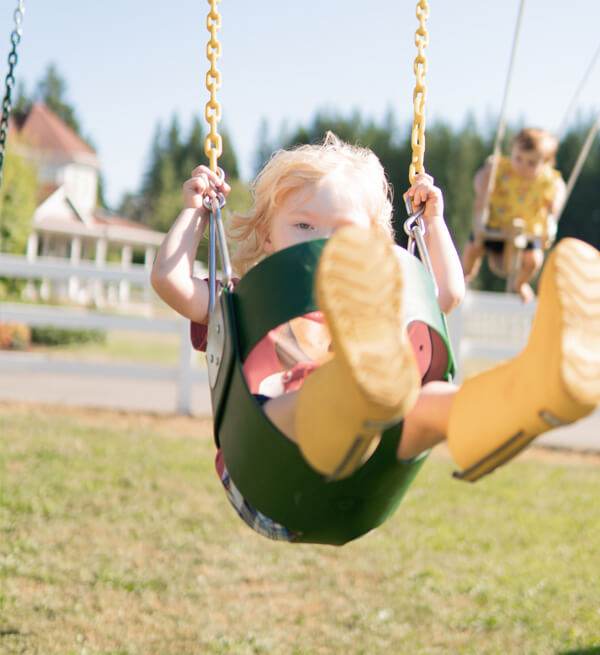 There are tons of ways to beautify the garden attractively. This also applies to activities, for example by a pool or the like. Especially for children - but also for adults - it is an immense fun factor to have their own playground in front of the door. Buying a swing is therefore a wonderful decision. Maybe add a sandbox and the play paradise will flourish. The single swing is often the perfect compromise to other play equipment when space is limited. It is narrow, not particularly wide and only needs a little space in front and behind.

Hardly anything is more fun than swinging carefree across the floor. We at Trekassy are passionate manufacturers of swings. We want to pass this passion on to our customers. We have set ourselves the goal of creating unique swing frames and enabling much more than just swinging. It is important to us to offer you more fun than ever. For this reason, we differ significantly from other swing manufacturers. We've always wanted to offer more. That's why we've fueled our imaginations to literally go high with our ideas.

But you're probably wondering what makes us different from others? We therefore want to give you a detailed answer and, in the spirit of this blog post, present why a single swing can be more fun than ever, provided it is implemented cleverly.
The seat makes the difference
By that we don't just mean the fact that a swing seat has to be of high quality. These are our swing seats, of course, but we had a crucial idea. We wanted to offer our customers more. Therefore, we have specialized in an enormous range according to different needs. Means: Seats for children, toddlers, adults. Regular seats, extra wide seats. Exciting seats such as nest swings and much more! A garden swing with the right swing seat can offer the variety of a swing on the playground. The difference - it's right in your garden at home, which we and our customers think is fantastic.
Because one special feature of most swing frames has always bothered us: the inflexible short lifespan. That's why we at Trekassy asked ourselves how we could ideally solve this problem.
A swing frame forever
It shouldn't take long and required a lot of creativity and tinkering until the solution to the problem became clear. Intuitive self-assembly swing frames were our creation. A frame that grows with you and adapts flexibly to any needs. It should also be personalizable for this reason. Many of you may know it: you would like to do something good for your children. They should play, romp and benefit from the beautiful garden. That's why people like to opt for a swing. Although single swing, double swing or triple swing. But children grow rapidly at a young age and as soon as they play, they are too big for the swing seats. In the best case, the decision is made to buy a new swing to replace the old one. However, this is expensive and time-consuming. Especially if you have to switch from a baby swing to a children's swing in a very short time.
We at Trekassy have eliminated this problem once and for all. Because the seats can be assembled easily and independently. Now all you have to do is invest money in a new seat and the fun can continue. For example, a baby swing can be made into a children's swing in just a few simple steps and without the need for any technical expertise.
Two garden toys in one
In addition, our customers do not necessarily need a double swing for double the fun. We at Trekassy have also taken care of that. Because our swing frames don't just mean rocking fun. They can be wonderfully combined with gymnastics bars and definitely create variety in many ways. In this way, the use can be increased by one additional person. Whether it is used for gymnastics or romping around is then left solely to the delight of our customers. The gymnastics bar can be modified in the same way as the swing itself. The bar can be mounted at different heights and locked in place without tools. Because we take the flexible fun of young and old very seriously.
It is important to Trekassy that you can enjoy the fun for a long time. Age, size or other factors should not hinder fun and lead to additional costs. Personalize the frame according to your own wishes or combine several wishes at the same time.
The combination of diversity & quality
Ultimately, the most creative swing is useless if quality doesn't match. We have therefore opted for robust and resilient materials, which we also source sustainably. This creates a stable base for raging children as well as the heavier adults. This makes the swing frames from Trekassy resilient and we are proud that we can promise maximum stability with it. The materials made of wood and stainless steel are in keeping with an outdoor garden swing, which also gives the frame weatherproof properties. Rain, snow, frost or the blazing sun cannot harm the swings.
It combines diversity and quality into a beautiful overall model. If that inspires you, then feel free to contact us and put together your own single swing with us without obligation. Choose the color, its finish and much more. Then enjoy easy assembly and the liberating feeling of rocking.