The possibilities of the double swing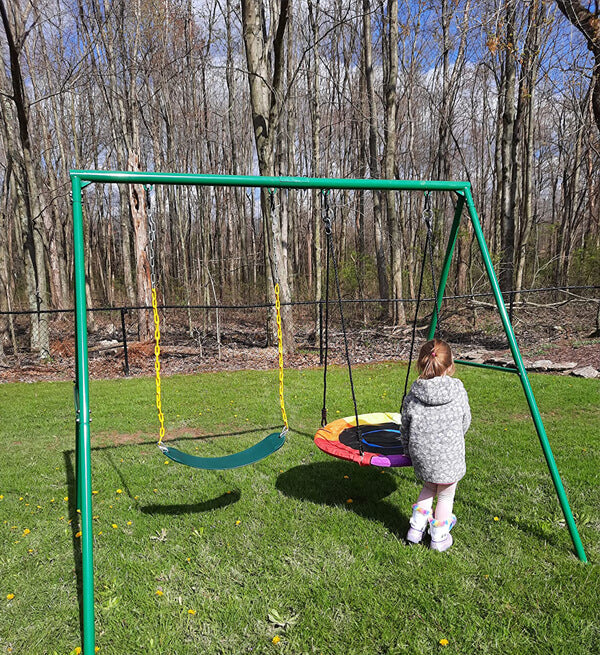 Common
double swings
are a wonderful investment in and of themselves. Especially for a larger family, the space for two people offers enormous fun - because what could be nicer than swinging together? Whether siblings, friends or great times with mom and dad - these swings ensure fun moments in company. We at
Trekassy
are passionate manufacturers of
swing frames
. For you, this means even more possibilities and a diverse selection of options that are tailored to you personally. But what does that mean? And why do we think we offer more than the usual swing frame manufacturer?
We would like to bring this closer to you in this article, because it is important to us that you understand what swing frames made of passion embody.
More than just a toy
We have thought extensively about what should make a perfect garden swing. One thing was clear to us from the start: Trekassy wanted to create more than just a swing. We then implemented that and the double swing is the prime example of how the swings from the playground come directly to you in the garden. Rocking is the right keyword here, if not almost too little.
A frame for eternity
We created that. Because we noticed a main problem with most garden swings: the lack of durability. Maybe you have already experienced this yourself, otherwise we would like to explain this serious problem in more detail. Although the swing has no age limit, it is increasingly requested for the little ones. Nothing is nicer for the children than offering them their own playground in the garden. Swing and sandbox make hearts beat faster.
But nothing is as fast as the growth of the child. This is of course a beautiful thing. After all, the little ones should grow up big and strong. With an ordinary swing frame, however, it has a serious disadvantage. Because suddenly they no longer fit in the
swing seats
and in a few years the swing will be sad and unused in the garden. In the worst case, a new frame must be here. That costs money and is time-consuming. We therefore want to counteract this problem and we present a frame for eternity.
Baby swing, children swing & adult swing
All in one – just the way you want it. You don't need a new swing frame at Trekassy, you can buy the right swing seat for you. You can also do the assembly yourself, because it has never been easier. Anyone can attach the swing seat they prefer intuitively and without any previous manual experience. This transforms the swing from a baby swing to a children's swing to an adult swing at breakneck speed. Nobody can get too big to swing here. The fun is guaranteed forever!
Double swing - double the fun
Even if you can enjoy the ultimate fun experience with a single swing, a double swing offers even more. Because here you have, among other things, the possibility to attach particularly large swing seats. Try it with a nest swing or plate swing, for example. So the rocking feeling is even more interesting. Whatever you decide, nothing is final and must be maintained. Put your swing set together and make the outdoor area a stronghold of fun. But of course it doesn't stop with exciting swing seats like the nest swing. We wouldn't be Trekassy if there were other special extras.