Black Friday Shopping Guide - Find the Best Swings for Kids for Christmas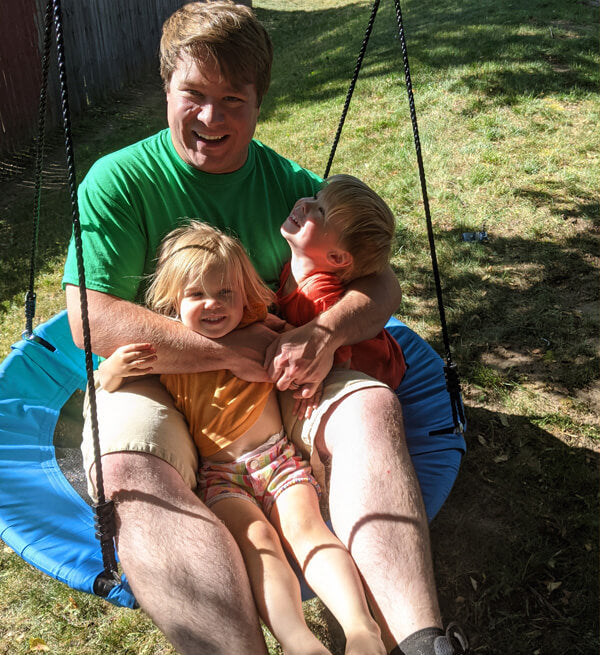 Children's swings are a very popular game at any age. Here is a guide to choosing the best baby swings and the models available.
When they are really small they love the rocking of the cradle or the bouncer then, when they grow up, they can't resist the thrill of the speed of the children's swings. No one can resist the charm of the swing and having the right swing at home will make the afternoons guaranteed by a lot of fun. The Classic Swing is a timeless recreation that's easy to set up, always there, and provides a quick burst of fun. For toddlers and young children, plastic swings are more than enough, but what's better for older children who want a swing in their garden? we will recommend that safe, fun and stable product that can be a feature in your garden for years on end for your older children and their friends.
Children's swings: wooden
The dimensions have a direct impact on the selling price of children's swings: a model that is suitable only for the first few months or that grows with them.
It is usually possible to choose between the various rocking chairs that recall the movements that the little one felt when he was in his mother's tummy: short and slow movements accompany and calm the sleep of newborns, usually weighing up to 9 kilos, up to age that varies from child to child but usually does not exceed 6/7 months.
Swings for children: in plastic
The seat can be containing and enveloping for the very little ones and minimal for the older ones. Wood is certainly a solid and reliable material. The colors with which the best elements are made are resistant to sun and rain so as to remain bright and lit for a long time.
GO!elements Sky Storm chair is available in different colours. The rocking seat is ergonomically shaped, light and offers optimal grip thanks to the 3D seat surface. Flexible and adjustable up to a rope length of 1.80 m. The swing rope is comfortable for children's hands and is held in place by strong clothespins.
Other models
For a slightly more relaxing swing with a larger seat why not consider a 'bird's nest' style swing. With a larger surface area and shorter swing string, this one is a bit more stable and less likely to rock back and forth for parents who are especially concerned about that risk. One or two children can use it at the same time for a little more excitement than your standard booster seat for hours of fun or relaxation in the sun.
For those who want a real playground for their child! The large playground is supported by beautiful teddy bear figures. The child-friendly colors invite the little ones to play. Here, girls and boys can let off steam as they please.
Ideal for a very limited space, if you only have one sturdy tree, keep it simple with this swing and climbing rope set to keep costs low and swinging simple. With the right anchor, this swing set for older children can hold up to 200 kg.
DIY swings
With the skateboard
Give a whole new purpose to an old skateboard in just 20 minutes by disguising it into an eye-catching skateboard swing hanging in your backyard! What you will need is a drill bit, carabiners, 2 dowels to support the child's hands while swinging and a sturdy rope.
With the chair
Apply a fresh coat of bright paint to that old chair you otherwise plan to throw away and start creating a chair tree swing out of the same. Taking off the legs and inserting contrasting colored ropes into the holes drilled in the chair is all you need to end up in this swing with a super comforting backrest.
Used swings
There are many sites and online shops where you can find a used swing for your child. Search among the best selections of used swings and you will find the one that best suits you.