Best children's swings - guide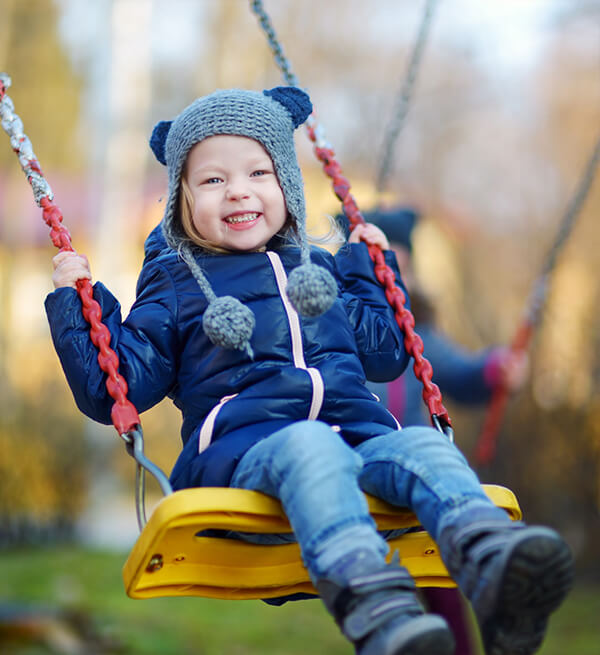 Swinging is part of childhood. The swing is also part of the basic equipment on every playground. Unfortunately, there are usually not many available and the children have to wait a long time. If you only want to go to the playground for a short time, then you have a problem. So how about your own swing for the garden or the house?

Checklist for children's swings
finishes
Children's swings are available in different versions for all age groups.
Can be used either with a frame or for attachment to the ceiling.
You can use them outdoors or indoors.
material
Plastic swings are particularly light, inexpensive and mostly weatherproof.
Wooden swings are well suited for indoor use or a weather-protected outdoor area. If it is exposed to wind and weather, it can weather over time.
Weatherproof materials such as plastic are ideal for use in the garden. Keep in mind: your colors may fade a little if exposed to excessive sunlight.
age and security
Babies need a seat belt and a shell in which they can lie comfortably and their head is supported.
Older babies who can already sit must be buckled up or sit in a secure swing gate that protects them from falling out all around.
Children up to three years swing safely with a backrest.
Children from the age of three may already be able to use low-hanging board swings (under supervision!).
If you have children of different ages, a nest swing is recommended, for example.
A swing frame with two or more swings is also fun for children of different ages.
security
Make sure the swing frame and the swings are securely constructed.
When fixing to a ceiling, pay attention to the weight allowance of the fixing material and the nature of the ceiling (there are different screws and dowels for wood, concrete or stone).
Always supervise babies and toddlers when swinging, as accidents can happen! If your child likes to climb, make sure that it does not stand up in the swing.
Rusty, wobbly or defective swings must be removed, replaced or repaired immediately!
Pay attention to test seals such as GS (tested safety) or the TÜV seal.
The lower the swing is above the ground, the safer it is for your child.
FAQ for children's swingsChildren's swing: what height?
As a rule, the swing should be fixed at a height of 250 cm or higher. The height of the seat board or the swing itself cannot be determined in general, because it depends on the type of swing on the one hand and on the other hand on the users: are they children? If so, how old are the children and what height are they? In general, you should always prefer the manufacturer's specifications, because there are different types of swings with different attachment devices. If you need specific tips and hints, please take a look at our guide for children's swings.
Concreting the swing: how long does it dry?
Concrete is usually resilient after about a day (24 hours), but you should still wait a week before using the new swing. Because when swinging, the swinging and jumping off causes special loads.
How much space do I need for a swing?
To be on the safe side, you should add two meters to the rope length of your swing. This way you can swing safely and, if necessary, jump off the swing. Tip: You can achieve even more safety with fall protection mats.
Swing: from when?
Children love swings. When your baby is about six months old, you can put it in the swing for the first time. Of course, it is important that you take individual development into account, use a special baby swing and secure your darling accordingly. If your child is not yet able to sit alone and for a longer period of time, then please wait.