When the garden becomes a play paradise – buying ready-made playground equipment vs. DIY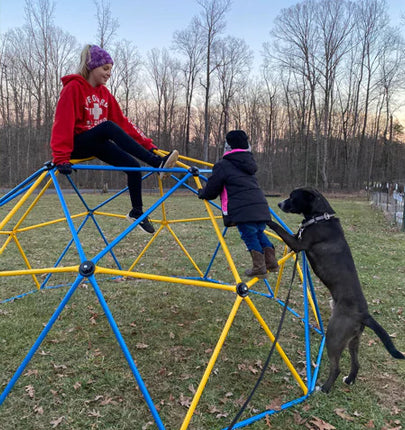 Your own garden or the courtyard behind the house are perfect for setting up play equipment. An oasis of well-being for young and old can be quickly created. There are many possibilities. They depend on age, preferences, space and budget. Do-it-yourself skills are also required, because safety has priority with children's play equipment.
Recreational fun on the doorstep with children's play equipment
The playground in front of your own house or in the allotment garden offers many advantages," says Holz Hahn from Krefeld:
The children can go out at any time and are still under adult supervision.
The area is protected.
The desire to play outdoors, creativity and movement are stimulated.
Togetherness is strengthened.
Holz Hahn from Krefeld explains: "The specialist trade offers a wide range of outdoor play equipment such as play towers, sandpits and swings.
You can also build your own. The undisputed favorite among the building materials for playhouses, sandboxes and the like is wood. The lively, warm material is easy to work with, has a pleasant feel, is robust and weatherproof. With a little skill, furnishing the garden can become a community project that connects generations."
DIY - from the seesaw to the wooden play tower
Holz Hahn adds: "Making children's toys yourself has a long tradition and is always fun for adults too. Not only are unique pieces created, but young and old can also work together. In any case, children experience in the self-made how challenges are overcome, how problems are mastered with strength and ideas in order to come to a beautiful, useful result.
"However, it is important to assess your own abilities correctly. It is not for nothing that toys on sale are subjected to strict tests. Climbing frames and slides in particular have to be firmly in place so that nobody can injure themselves. With all the advantages of do-it-yourself, a kit is often the better and, above all, safer solution. It's still fun to set it up according to the instructions," says Holz Hahn from Krefeld.
Step by step to your own swing
Holz Hahn from Krefeld: It is best to start with simple projects. Building a children's swing can be easily accomplished if there is a healthy, sufficiently large tree with strong branches on site. This requires:
Wood, a board at least 3 cm thick, 25 cm wide and 55 cm long (oak is best)
Rope, preferably polypropylene rope, at least 1.5 cm thick and about 10 m long
Stainless steel carabiner
sandpaper
saw
Rechargeable drill
Drill (according to the thickness of the rope)
Tape measure or folding rule
sanding block
1. The board must be cut to the desired dimensions. An advantage: You decide how wide and long it should be. The thickness has to be right, because the swing will be exposed to wind and weather outdoors. Garden wood should be thick enough to withstand the loads.
2. Two parallel holes are to be marked on each side. The size of the holes and the wood drill bit must match the thickness of the rope.
3. All 4 holes are drilled.
4. Any sharp burrs are removed with sandpaper. The wood can also be treated with oil to protect it from moisture.
5. The rope is cut in half. Then another 2.5 m are cut off. One strand of the smaller 2.5m strand is threaded through the holes on each side and secured under the seat with stopper knots. This creates a loop on each side.
6. The long parts of the rope are wound over the branch several times. The length of the swing ropes depends on the size of the child. The snap hooks are fastened in the loops and connected to the long rope parts of the tree with sailor's knots.
Playground equipment for the garden: buy or build?
Holz Hahn: "The decision should be made according to individual requirements. A sandbox is easy to build and also poses few risks when using it. A greater effort and technical experience are required for soccer goals. Everything must be stable and withstand high loads so that no child gets injured.
This is especially true of a play tower. It must be possible to climb well and safely on it. It must not be desolate even after a year.
It is therefore often better for safety reasons to buy play towers and accessories for a play tower such as a slide. In most cases, material costs and effort are even lower with high quality than with self-construction."