The best Climbing balls for gardens and outdoors in 2022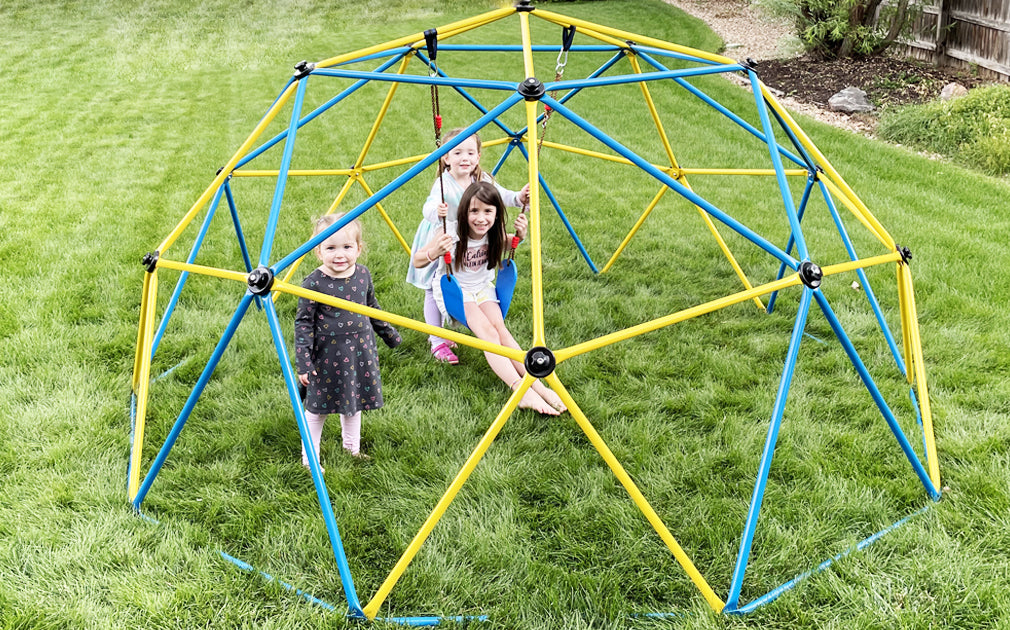 A climbing dome is a structure that children can climb on for fun and often includes a slide.

Are geodesic jungle gyms safe for children and toddlers?

Well yes they are safe because they are made of rigid and strong material to support the weight and the material is plastic coated to protect it from rusting. They are not recommended for children under 3 years old.

Don't know how to choose a safe and quality climbing dome?

You don't have to worry because we've got you all covered. This article is a comprehensive guide that includes the best Climbing Domes with their amazing features and buying guide.

3 Best Climbing Geodesic Domes Reviewed in This Article:

Considering the quality, features, and customer reviews, we have compiled the top three climbing domes for you.


10 FT Climbing Dome With Water Doodle Mat - The Best Overall Geodesic Dome Climber.
8FT Geometric Dome Climber - Great size for indoor and outdoor use.
10FT Climbing Dome With Canopy - Safest and Most Durable.
Advantages of using geodesic climbing domes as a climbing frame:
Climbing geodesic Dome Climbers is a fun activity for kids and has numerous physical and health benefits.
1. Hand-eye coordination
Because dome climbing depends entirely on hand-eye coordination, dome climbing improves that coordination every day.
2. Fitness and Endurance
Dome climbing is a physical exercise that increases their endurance. It also keeps the majority of the body muscles working and takes physical fitness a long way.
3. Mental health benefits
Dome climbing not only helps keep the body fit but also refreshes the mind. Studies have shown that climbing activities help children improve their learning. So dome climbing has a positive effect on their mental health.

Important features to consider when purchasing a Geo Dome Climber
How can you choose the right geodesic dome climber for your child? There must be criteria to evaluate that. And this criterion is what properties the article possesses. So before you buy a dome climber, you should be aware of the most important features of the product.
Material safety
The climber should be sturdy enough to comfortably support the weight of children. And no edges or screws should be exposed. Steel and plastic should be your preferred materials.
Safe height
You must decide what height is safe for your child. For younger children, it is recommended to stick with low-height (up to 48 inches) geodesic dome climbers.
Easy construction
The assembly should be convenient for parents to set up. Even children should be able to assemble it. So that the assembly of the dome does not become a headache and a killjoy.
Budget
You'll typically get a dome climber in the $150-$600 range. If you're looking to buy a climber on a budget, you'll either have to sacrifice durability or mobility.
Let's take a closer look at our top 3 picks for the best geodesic dome climbers.
1.10 FT Climbing Dome With Water Doodle Mat
The geodesic dome climber play structure is made of thickened hot-dip galvanized steel that is rust & weather resistant, durable for long term use.In addition, the dome is suitable for children to climb up, under, through, and around the climbing dome. This is a significant contribution to their development of balance, strength, and coordination, as well as effectively strengthening their social abilities. This climbing playground is a great birthday or Christmas present.

The product dimensions (L×H) in inches are 305 x 152.

Featured Features


Equipped with Large Reusable Doodle Mat and Picnic Mat

800 LBS Weight Capacity

Spacious room for 5-6 children to play together.

Disc Swing Attachment

Easy to use.

Good quality and durable

No use of lead to protect the environment.

The steel is rust & UV resistant

2. 8FT Geometric Dome Climber
The climbing tower (outdoor climber for toddlers) is specially designed for toddlers. It is only intended for children from 3 to 9 years old. The Monkey Bars are made of UV-protected plastic. This set is surprisingly light and easy to use.

At the same time, there are no compromises when it comes to security. The product dimensions (L×H) are 8ftx5ft

In the event of early damage, the buyer can claim the warranty through after-sales service.

Featured Features
Detachable Waterproof CanopyThe UV protection of the material ensures a long-lasting product.

Weight Capacity 1000lbs

budget friendly.

Very wearable.

Non-slip surface.
3.10FT Climbing Dome With Canopy 
The 10FT Climbing Dome With Canopy is one of the best geodesic climbing dome kits. The climber is made of premium steel. The product quality is exceptional and the freedom of movement of the assembly is impressive.

The dimensions (LxH) of the product are 10ftx5ft. The climber is primarily designed for toddlers and children aged 3 to 10 years. The quality of the steel used in the construction makes it very durable. The steel is also UV and rust protected.

Featured Features
Exceptionally strong and durable.It can hold a load of up to 800 pounds without damage.

UV and rust protection help it keep its appearance.

professional

Durable and structurally sound.

Easy to assemble.

With Swing & Canopy,can CLIMB + FLY + JUMP + REST

3-year warranty guarantee.

Dome climbers are a great source of fun for kids. In addition, they also offer healthy physical activity in the form of rock climbing. This exercise also sharpens their brain and reflexes. So buying a rock climber for your kids is a good choice.

But which one to buy? There are various geodesic playground climbing domes on the market. But the main concern is the safety of the children. The other important aspects are durability and portability. So before you decide to buy a dome climber, you should definitely consider these aspects.

After reading this article, you will be able to choose the most suitable dome for your child.