Choose Children's swing at Trekassy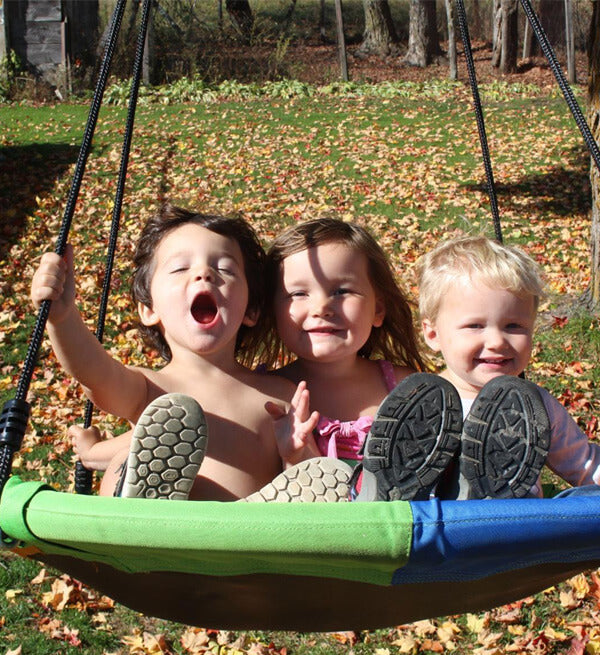 Children's swing in the garden
At Trekassy you will find the right playground equipment for your outdoor area. Choose between compact or large scaffolding. The smaller garden swings are designed to fit in any garden. A single swing offers great fun in a small space. If there is a lot of space, you can optionally set up a swing with a climbing wall and platform: These Trekassy swing frames inspire children with a double swing, wave slide and climbing ladder. Thanks to the strong 7x7 cm posts and the 9x9 cm swing beam, safe swinging fun is guaranteed. An exciting variant is the metal children's swing with an additional climbing net. If you want to buy a swing, keep an eye out regularly for cheap offers on swings with a frame or a Swing Set with a slide in our Trekassy Sale.
No matter which garden play equipment you choose, exercise in the fresh air contributes to the healthy development of your child. Together, siblings and friends learn to keep their balance while swinging, but courage and team spirit are also trained. If the weather doesn't play along, the little ones will quickly warm up while romping and running around. Thanks to the concreted-in safety anchors and fall protection mats, nothing can go wrong when playing.
Build and expand Trekassy swing yourself
A Trekassy swing in the garden will accompany your child for many years. You can set up your swing kit yourself and then expand it according to your wishes. The swing seats can be easily adjusted to the age and individual needs of your family. For the little ones, you will find adjustable swings for babies in the swing set. Because little ones grow fast, Trekassy toddler swings can be adjusted to their size and ability with simple adjustments. A children's swing seat can be installed for children aged 3 and over. Whether double or single swing, Trekassy offers you a large selection of inexpensive and high-quality swing seats: Will it be a classic swing board, a nest swing, a web swing or perhaps an acrobatic disc swing? If several children want to go high on a swing, either a large nest swing or a web swing is ideal, on which two children can swing and sit opposite each other. Especially active kids will be happy about a sporty extension. One of the two swings can easily be exchanged for a trapeze. Be creative and design the metal swing yourself, according to the individual wishes of your child.
Did you know? In our Trekassy online shop you can not only buy your swing, but also find the right swing accessories, A swing set in the garden can easily be supplemented with a sandbox, a slide, a playhouse or even a whole play tower. Build an adventurous playground for your children and enjoy their bright eyes and happy laughter. Let yourself be inspired by our unique Trekassy swings online now.