What can you play with children in the garden?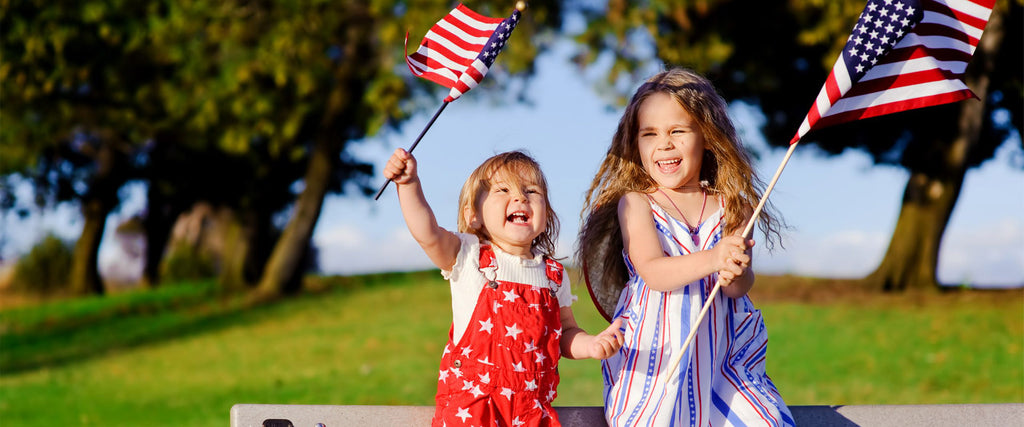 Laptop, cell phone, TV. More and more children are stuck in front of the screens for too long. The result: According to a study by the Robert Koch Institute, every seventh child in the USA is overweight. With the right garden toys, you have good arguments in the fight for more exercise and time in the fresh air. Because in the garden between the swing and the football goal, between the playhouse and the trampoline, the hours just fly by. And on top of that, the children's fine motor skills, creativity and social interaction are encouraged.
A prerequisite for this is of course a safe play environment, the most important parameter for children from the age of 1. Unfortunately, many outdoor toys sold online are made from inferior materials that break quickly, creating a latent safety hazard. In addition, you should pay attention to the right age for garden toys (games that are too difficult are just as uninteresting as games that are too easy) and the possibility of playing with several children at the same time. With this overview, we provide a garden toy best-of and at the same time inspiration for furnishing your own garden.
Garden toy checklist
Age: Outdoor toys should be appropriate for the child's age: this overview includes a wide range of products, from simple sand molds for toddlers to sophisticated spike balls for older children. If you choose garden toys that are too complex or too childlike, you can fill up the storage space in the garden house at most, but not the children's free time.
Number of children: Whether siblings or neighbours' children - if several children play in the garden at the same time, adequate garden toys must be available. Double swings (click here for advice on buying children's swings) or play towers with a slide are just two examples of recommended play equipment for several children. In return, there are many toys for the garden, which the children can also occupy themselves with on their own.
Quality of workmanship: The most beautiful outdoor toy is no fun in the long run if it is poorly manufactured and thus only has a short lifespan. But not only there: Supposedly "cheap" toys can also pose a real safety risk - and end up being really expensive. Here it helps to pay attention to safety certificates from independent testing bodies such as the GS mark as well as references to the general toy standards EN 71 (toy safety) and EN 1176 (playground equipment and playground surfaces).
Material: The wood of garden play equipment should not only be FSC-certified, but also impregnated to be suitable for outdoor use. With garden toys made of plastic (mostly PP or PVC), you should make sure that the material is thick enough - "cheap plastic" and thin tarpaulins quickly become brittle or tear due to the weather and the constant stress from children break.
Storage: While some garden toys can withstand rain and intense UV rays, storing them safely in a suitable garden shed will extend the shelf life of the products. There, outdoor toys remain protected from extreme weather conditions even over the winter.
Recommended outdoor toy
Play tower with slide for the garden
A large play tower combines various play equipment such as wave slides, swings or climbing nets in one. Play and climbing towers are therefore ideal for several children with different preferences. Another advantage: a play tower saves space - and is therefore ideal for smaller gardens.
Garden playhouse
Playhouses are ideal retreats for children, giving them some time to themselves and role-playing about coming home. Higher-lying stilt houses also offer space and a roof for a sandpit underneath. Important: weather-resistant wood and high-quality workmanship.
Garden trampoline for children
Classic garden toys: Whether it's a children's trampoline or the luxury variant of a ground trampoline: When buying a trampoline, you should pay particular attention to the right size and excellent safety standards.
Sand box and sand toys
Hours of playing in the shade - that's possible if you choose the right sandbox. Top models not only have a stable and safe wooden frame, but also the necessary roofing. Since this is a bit narrower, especially on sandpit boats, children should always be sunscreened.
Sandbox toy
Whether it's a standard set with a bucket, shovel and rake or a sand mold - digging and building in the sand is even more fun with the right toys. Requirement: sandbox toy that can withstand the demands and does not fade or break straight away.
Children's slide for outside
A good outdoor slide is made of high-quality plastic that can withstand constant UV radiation and sometimes harsh weather conditions. Basically, you have to choose between free-standing models and built-up slides for play towers and the like.
Outdoor ball games
football
If you want to play football in the garden, you first need a ball and a goal. The gripping penalty shoot-out can already begin. If you want to use the space around the house for specific training, a high-quality rebounder is also recommended.
In order to throw the first baskets with your children, a simple basketball hoop in cards is often sufficient. You should pay attention to a robust board and a solid bracket for good stability.
racquet games
Beach tennis, badminton or twistball. Anyone who likes to pick up a racket can do so in their own garden. Even if you don't need professional equipment, there should be a minimum level of quality so that you don't get frustrated after the first balls hit. admit.
Swing for babies and children
So simple and yet so delightful: swinging is still one of the most popular leisure activities for children in the 21st century. At home you have the choice between classic wooden swings, nest swings, plate swings or double swings - provided you have a stable swing frame.
Climbing is one of children's most natural forms of exercise, and there are plenty of reasons to climb. If you want to support your children in this urge, you will find a large selection of good horizontal bars, climbing towers, climbing nets.
What used to be only available at fairs has long been available for your own garden: a bouncy castle. Depending on the equipment, garden bouncy castles also have a climbing wall, water jets, slides and much more.
Frequently asked questions about outdoor toys
What do you have to look out for with garden toys?
– Outdoor toys will only be left lying around or empty if they are not appropriate for the children's age. Here it is important to pay attention to manufacturer information or experience reports from other parents.
– Garden toys range in size from small sand molds to large bouncy castles. What is the right toy for you, of course, also depends on the available space.
- No matter which product category you choose, high-quality workmanship is a must. Anyone who saves here often regrets it after a short time because the outdoor toy fades, breaks or bursts.
How do I choose the right outdoor toy?
The first question to answer is what space is available. If you only have a few square meters outdoors, you can kill several birds with one stone with combination play equipment such as a climbing tower or a stilt house with a sandpit. Those who have more space can choose outdoor toys for running and shooting, or long wave slides.
What are the benefits of garden toys for children?
Outdoor toys are intended to keep children occupied outside, to give them joy and to give them tools in their hands (and legs) to follow their natural urge to move. Good garden toys stimulate creativity and support role-playing games, as well as the intrinsic motivation to push boundaries.
How to care for children's garden toys?
If you leave garden toys outside, you have to clean them regularly. Warm water and a mild soap can be used to remove dirt and bacteria from smaller toys. However, it is better to store outdoor toys in a garden shed or something similar.