Swinging into Family Bliss: Nurturing Children's Joy and Connection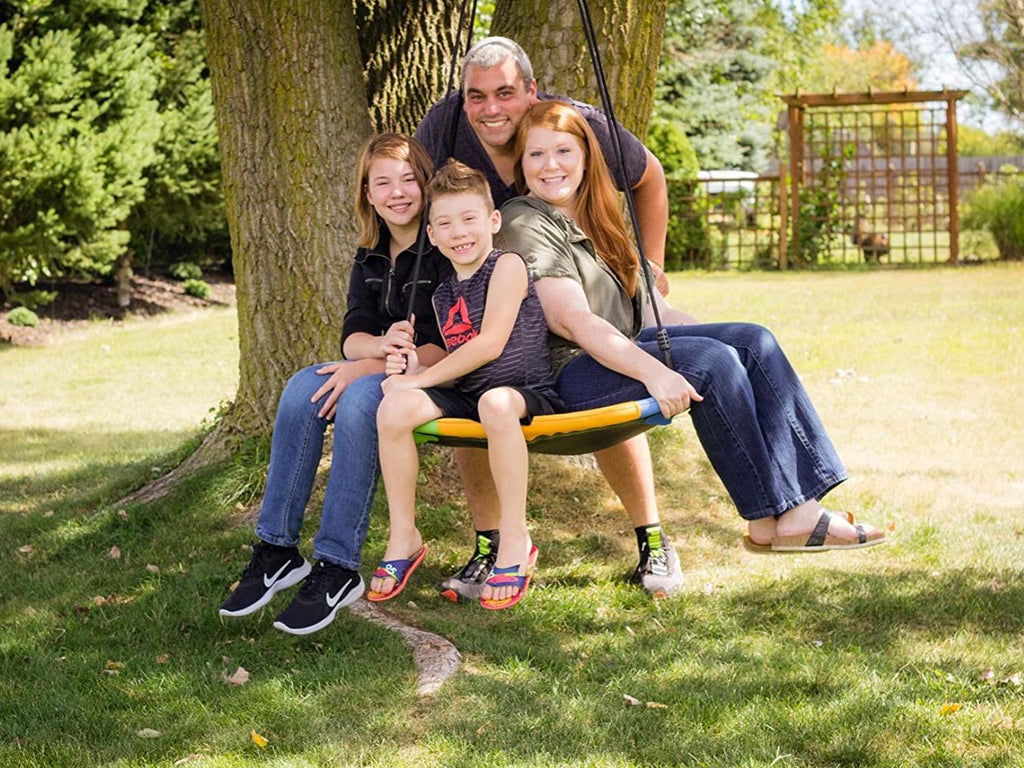 When you left the playground as a child, you looked sadly at the equipment that you had to leave behind. Every child has this dream - their own swing in the garden. At Trekassy we want to make this dream come true for our customers . The quality of our swing frames is high and the solutions are inexpensive and long-term. The seats of the swings are easily interchangeable, which means that the swings can be used individually by everyone. This makes the garden swing very entertaining and it will be a fun factor for many years to come.
In Trekassy there are swing frames that you can put together individually. Whether a single swing, a double swing, a triple swing or e.g. a nest swing. The seats make it possible that these are not purely children's playground equipment. With different swing seats, the children's swing suddenly transforms into a swing for adults or into a baby swing. Swings such as the double swing or triple swing, to which you can attach special seats, are particularly beautiful. Would you like a Web swing or Saucer swing? Then choose the right seat and attach it to the swing - done!
Trekassy makes it possible.
Swings with heart and quality for your garden
Craftsmanship has been in our veins for a long time. Our children in particular are particularly interested in swings. Tinkering and implementing new ideas is an affair of the heart for all of us. As a creative team, we have always been creating unique swing frames. It is particularly important to us that the assembly is barrier-free and can easily take place from home.
Ideal material for the garden
The materials we used are stainless steel. Environmental protection and fun can therefore go well together. Stainless steel has the advantage that it does not rust and is extremely durable. This means that rain and frost cannot harm the swing, and you also have little maintenance.
The swing: Unique and colourful
Every garden is different, which is why our swings adapt to your visual and functional needs. We wanted to create a play device that has no limits. This means that you have countless combinations for young and old. We have seats that make it possible to attach a baby swing, but which can be exchanged at short notice for seats that turn a baby swing into a children's swing. Furthermore, hammocks can be hung, awnings and other swing elements such as plate swings, nest swings and much more.
Endlessly combinable swings
There are no special requirements for installing the rack and no need for final decisions. Single, double and triple swings can all be combined with a gymnastics bar. We are also excited when there is more play equipment for the garden. A swing for one person can quickly become fun for two or more people simply by buying a new swing seat.
Fun for all ages
Trekassy offers various accessories so that our swings are suitable for all age groups. This has various advantages. For one thing, you don't need to buy a lot of different Swing Frame to serve all age groups. Just hang up the right rocking chair and you're good to go. In addition, children in particular grow incredibly quickly in the first few years. The seat has just held the baby, the next moment the little rascal is already dashing around and no longer fits in the seat. The child should not be without the swing anyway.
So you have to spend a lot of money again to buy a new Swing Frame? No! Trekassy wants swings to be fun for anyone who owns a garden, without breaking the bank every time. Trekassy swings are affordable, unique and of high quality.
We know that the fun of swinging doesn't go away. Everyone loves the feeling of swinging high in the air and enjoying the wind, as well as feeling a little closer to the sun than usual. Therefore we are not a manufacturer for the pure children's swing. Our star attraction of play equipment isn't just for one generation, it's fun for everyone! Many of our options are height adjustable right from the start and our swing models are available in different sizes. So don't hesitate, because we have rocking fun for everyone!